1.APP waterproofing MEMBRANE
Description:
APP (Atactic Polypropylene) waterproofing membrane is a type of modified bitumen membrane commonly used for waterproofing buildings and structures. It is made from bitumen, which is a highly viscous, black, and sticky material derived from petroleum, and is modified with APP polymers to enhance its properties.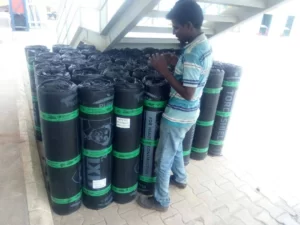 The APP waterproofing membrane is highly flexible, which allows it to adapt to the movements of the building or structure without cracking or tearing. It also has excellent resistance to UV rays, temperature changes, and water penetration, which makes it ideal for use in areas with high exposure to the elements.
The APP waterproofing membrane is applied to the surface of the building or structure using a variety of methods, such as torching, hot-mopping, or self-adhesive. The membrane can be applied to a variety of surfaces, including concrete, metal, and wood.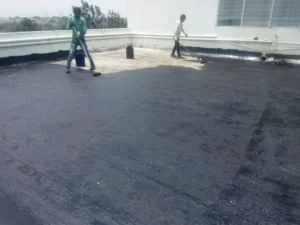 APP (Atactic Polypropylene) Bituminous modified waterproofing membrane is a prefabricated waterproofing membrane with a multilayer design, with superior pliability, tensile strength, workability and resistance to the soil elements. Each of which serves a specific purpose in enhancing the membrane's overall performance and durability.
In some variants of APP waterproofing membrane, the top layer, also known as the cap sheet (the outermost layer of the membrane) and is designed to provide protection against UV radiation and other environmental factors. It is usually made of granules or mineral materials embedded in the bitumen to provide a durable, wear-resistant surface. Beneath the cap sheet, there may be one or more reinforcing layers, which are typically made of polyester or fiberglass. These layers add strength and stability to the membrane, helping it resist damage from structural movement and other stresses.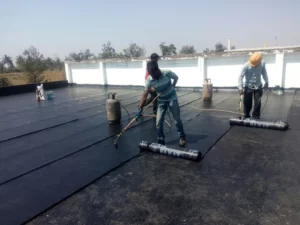 The APP modified membrane exhibits excellent resistance to Ultra Violet Rays, ageing effects, weathering effects etc. Its other prime properties are excellent cold flexibility, tear and puncture resistance, easy applications etc.
Uses:
Inverted Roofs.
Terraces & balconies.
Sunken slabs.
Patios.
Concrete foundations & footings.
Basements.
Pile heads.
Swimming pools & water retaining structures.
Bridges & tunnels.
Airport aprons & ramp areas.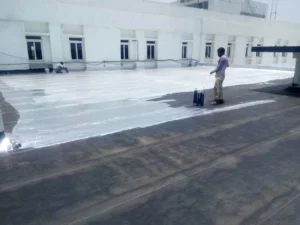 Application instructions
The installation process for an APP waterproofing membrane may vary depending on the specific product and application, but generally follows these basic steps: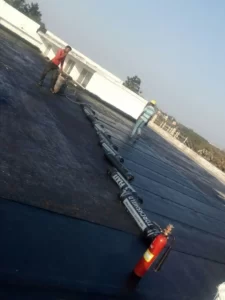 Surface Preparation: The surface to be waterproofed should be clean, dry, and free of any debris, sharp edges, or protrusions that could damage the membrane. Any cracks or voids in the surface should be filled with a suitable sealant. Structurally unsound and friable concrete must be removed and repaired with a suitable repair mortar.
Application of Primer: A primer may be necessary to improve adhesion between the surface and the APP waterproofing membrane. The primer should be applied by brush, roller or spray, in a thin, even layer and allowed to dry completely before proceeding.
Installation of the Membrane: The APP waterproofing membrane is typically installed in rolls, starting at the lowest point and working upward. The rolls should be unrolled carefully to avoid damaging the membrane, and then positioned to achieve proper alignment and overlap with adjacent rolls.
Attachment of the Membrane: Depending on the type of APP waterproofing membrane, it may be attached to the surface using a torch. Heat both the overlaps and use round tipped trowel to seal the overlap. Excess compound should be smoothened and pressed into the seam using a heated trowel. Care should be taken to ensure that the membrane is securely attached and any wrinkles or air pockets are eliminated. Do not over torch as this will expose the reinforcement in the membrane and cause damage to it.
Sealing of overlaps, Joints and Penetrations: Heat both the overlaps and use round tipped trowel to seal the overlap. Excess compound should be smoothened and pressed into the seam using a heated trowel. Any joints or penetrations in the membrane should be sealed to prevent water from entering. All angles and abutments should be sealed with extra care to ensure full bonding. Seal the edges well into the grooves and protect with suitable mastic sealant.
Inspection and Repair: Once the APP waterproofing membrane is installed, it should be inspected for any defects or damage, and any necessary repairs should be made before covering or exposing the membrane to weather.
The Installation of an APP waterproofing membrane requires careful attention to detail and proper surface preparation to ensure a long-lasting, effective waterproofing solution. It is recommended that installation be performed by a qualified and experienced contractor to ensure the best possible results.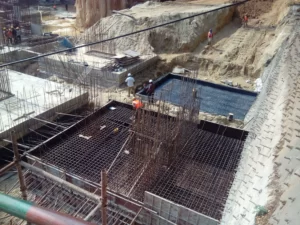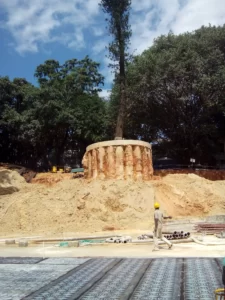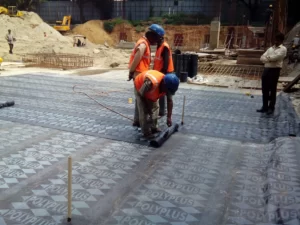 GEOLIZ WATERPROOFERS PVT. LTD.
Waterproofing Products & Services Guide
For details on other waterproofing products & Services